Signing my life away on a contract for our commercial building was the easiest part. The hardest part was executing all aspects of the business from pulling together the right team to executing all products and so much more.

How do you come up with the wonderful flavor combinations for your chocolates?
We think of our favorite childhood memories, our favorite desserts, seasonal ingredients and things we love, combining different components to create delicious, fun and surprising flavors.

Who has inspired you the most in your career?
Elwyn Boyles, the Executive Pastry Chef for Fine Dining at Thomas Keller's Restaurants. He's always the first to arrive and the last to leave. He's not someone who's just a chef by name but really puts in a lot of work.
I remember the first time I met Chef Boyles during my stage at Per Se. Everyone was in the middle of deep cleaning when I noticed him standing on top of the work station bleaching and wiping the walls along with the rest of the team. He taught me what it means to be a leader and a true team player. But above all he makes the most incredible desserts in the world.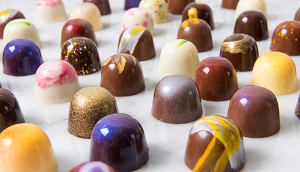 What advice would you give someone who wants to follow your career path?
Becoming a chocolatier involves a lifetime of hard work and dedication– and you never stop learning. Through it all, try to find your own colors and style, and above all just make it shine like our bonbons!
With Stick With Me receiving rave reviews, what do you have in mind as the next step? Another store? A cookbook? A television show?

We are hoping to open more shops in the near future and expand our presence to Asia.

....................................
Stick With Me Sweets
202A Mott Street
New York, NY
646.918.6336