Creating Love Through Food

A Q&A with Ooshma Garg, Founder and CEO of Gobble
While Ooshma Garg always had delicious home-cooked family dinners growing up, this changed once she was on her own. Like many other busy people, she found herself going for unhealthier options out of convenience. She decided to figure out a way people could quickly and easily prepare home-cooked meals. In 2010, Ooshma founded Gobble, a meal kit service that lets its subscribers whip up tasty and healthy meals in just 15 minutes.
*******************************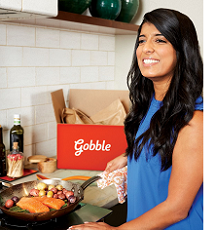 Please tell us a little about yourself.
I grew up with a strict and cherished tradition of eating home-cooked food with my family every night. This gave me a sense of both physical and mental health, creating a secure feeling of love and belonging in my life. I saw firsthand, with my mom working 12+ hours a day and balancing her professional role alongside her role as a mom, that there was a void of solutions that allowed working women to provide for their families without sacrificing time or nutrition. Gobble does the invisible work of solving this timeless mealtime question, and it's this angle that allowed me to create a must-have in the food industry, just as I needed it myself.
You have a degree in bio-mechanical engineering. How did you end up starting two very different companies?

I founded my first company while I was a student at Stanford, and I'm grateful for every lesson that first business taught me. I founded Gobble shortly after I graduated. While the company has taken a few variations over the years, the mission has remained consistent, which is to create love through food. After exploring various startup ideas early on, the built to last company ultimately was one that leveraged my engineering mindset, passion for technology, as well as my personal fulfillment of bringing families together over home-cooked food.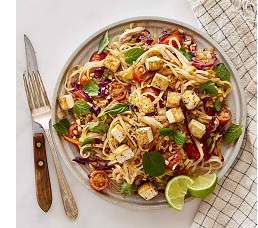 Where did the idea for Gobble come from?

I have always been a tinkerer and grew up curious, constantly experimenting. Women have been wondering "what's for dinner?" since the beginning of time. Other companies in this industry approached this question through diets or teaching women to cook. Gobble was encouraged to solve the real problem at hand and fit into the fabric of everyone's daily life. Gobble's already prepped and prepared meal kits do the invisible work of solving this timeless mealtime question, in just 15 minutes.
How did you come up with Gobble's "pan to table in 15 minutes" philosophy?

Gobble's 15 minutes philosophy was inspired by the importance of quality time with loved ones, and when dinner isn't stressful or time consuming, this is made possible.
Was there a time when things went wrong for you at any time in your career and how did you get through it?
During the pandemic there was increased demand, and we faced the issue of accommodating our shipments for more food and more orders.Through cross-functional collaboration, Gobble's engineering and operations teams were able to solve this issue by quickly adapting and developing new software to handle multi-box orders.
Any advice for other entrepreneurs?
​​I would encourage entrepreneurs to unite and collaborate with a variety of teams to view inevitable obstacles through a different lens, which will guide them in creating a unique solution.